Meetings at the Rocky Mountain Resort
With four air-conditioned function rooms to choose from, 169 guest rooms, and a spectacular location at the base of Cascade Mountain, the Banff Rocky Mountain Resort & Conference Centre offers a true mountain retreat atmosphere. We offer more than 5,000 square feet of meeting space in two bright conference rooms with mountain views, plus an additional two breakout rooms. We accommodate up to 140 guests banquet style. With an established food and beverage team, an outdoor terrace, and spacious hospitality suites, Banff Rocky Mountain Resort is well positioned to welcome your board meeting, family reunion, training seminars and more.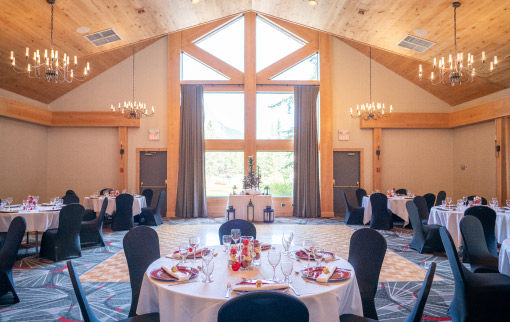 Timber Wolf Meeting Room
The Timber Wolf Room, perfect for the party of 70 to 110 guests who want to dance the night away.
Dimensions: 42′ x 40′
Square Footage: approx 1,680 sq ft
Max Capacity: 80 (banquet) 100 (reception) 120 (theatre)
Grey Wolf Meeting Room
The Grey Wolf Room, perfect for parties of 100 to 140  with dance floor and outdoor deck.
Dimensions: 51′ x 38′
Square Footage: approx 1,938 sq ft
Max Capacity: 120 (banquet) 160 (reception)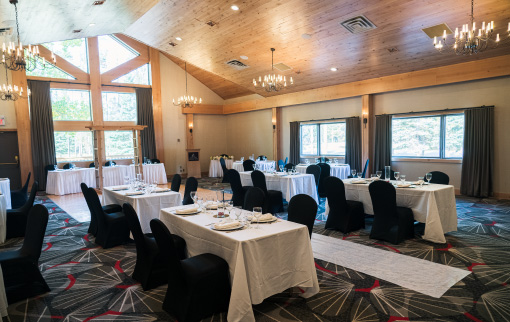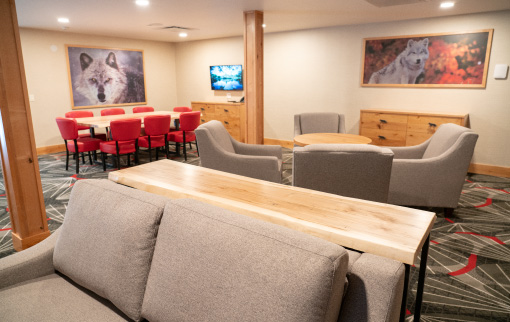 White Wolf Suite
The White Wolf Hospitality Suite is the perfect choice for a small meeting executive workshop, or a breakout room.
Dimensions: approx 28 ft x 33 ft
Max Capacity:
Catering and Menus
Menus and catering are provided by in-house restaurant Alpha Bistro
Grey Wolf Room
Wedding Reception Rounds with Buffet
max 112
Grey Wolf Room
Wedding Reception Family Style with Buffet
max 120
Grey Wolf Room
U-Shape
max 44
Grey Wolf Room
Open Rounds of 5
max 75
Grey Wolf Room
Classroom
max 84
Grey Wolf Room
Theatre Style
max 160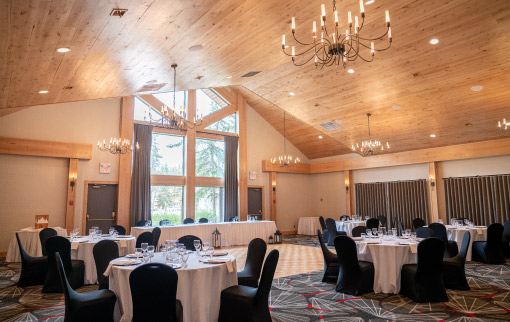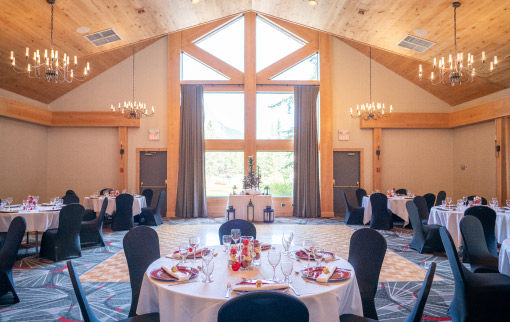 Timber Wolf Room
U-Shape
max 40
Timber Wolf Room
Wedding Reception with Buffet
max 88
Timber Wolf Room
Ceremony 110
max 88
Timber Wolf Room
Classroom
max 80
Timber Wolf Room
Wedding Reception Family Style with Buffet
max 72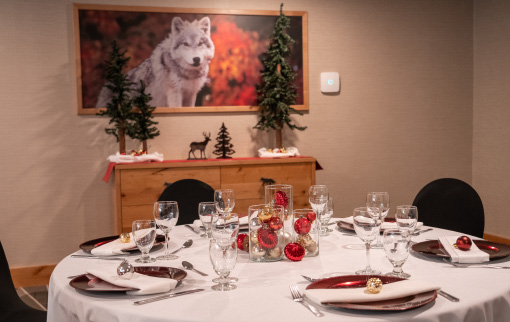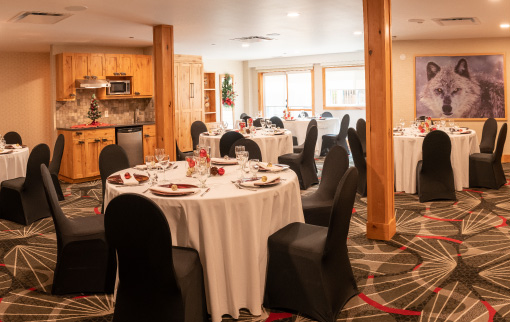 Christmas Party with more spacing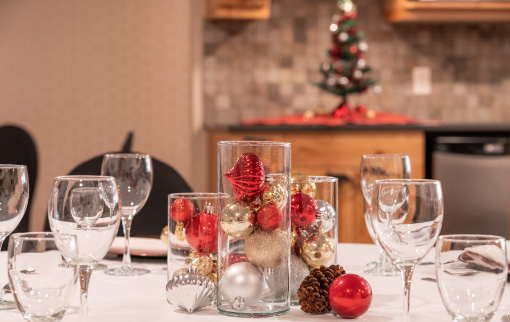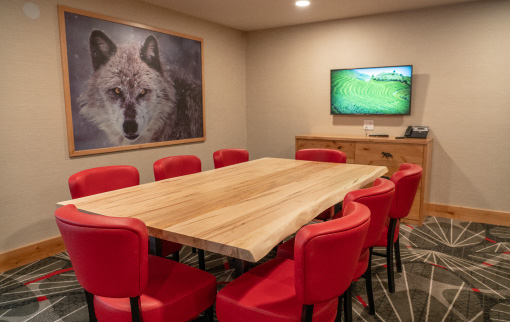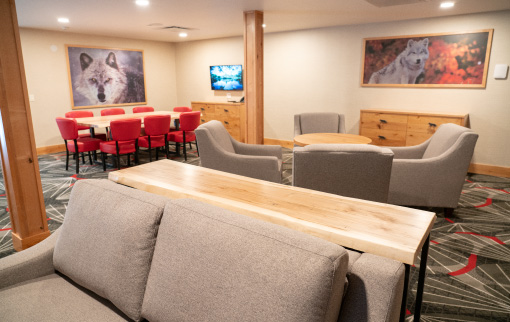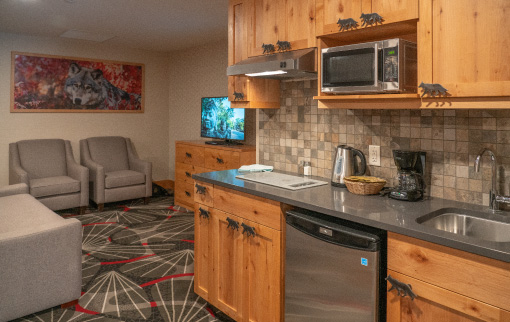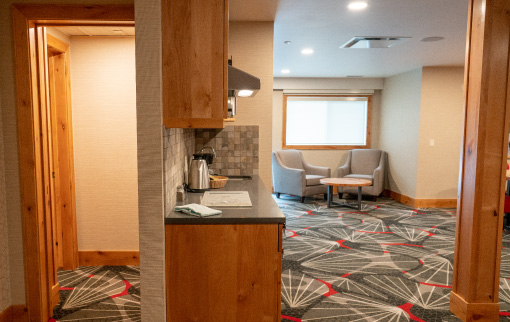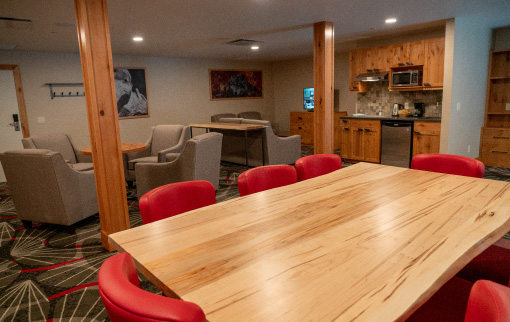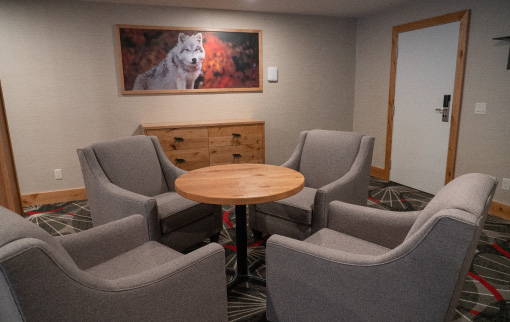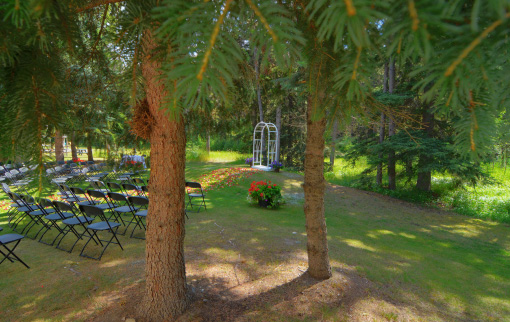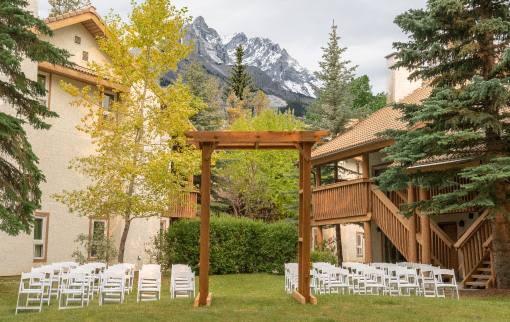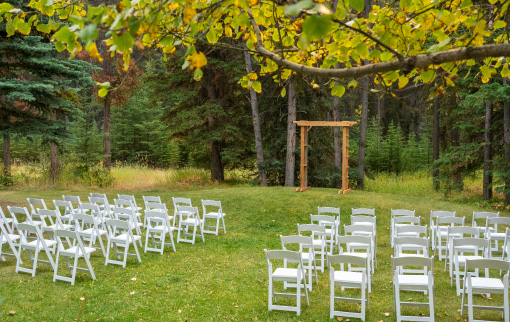 Pine Meadows Outdoors
Ceremony
max 120