Alpha Bistro
 Alpha Bistro is just off the lobby at the Banff Rocky Mountain Resort, enjoy our fine Canadian cuisine in a cozy atmosphere.
Open Daily for take-out and dine-in
Breakfast hours: 8:00 am – 11:00 am (no buffet)
Dinner hours: 5:00 pm – 10:00 pm
The Alpha Patio is open for all meals, weather permitting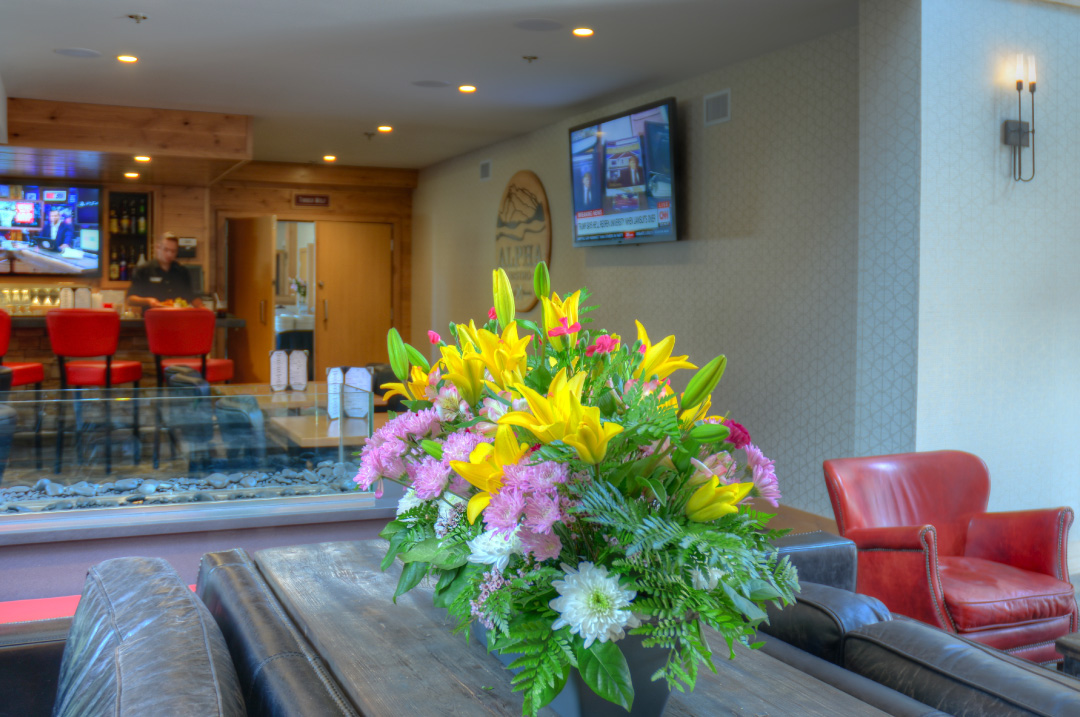 Located in the Banff Rocky Mountain Resort
1029 Banff Avenue
Banff, Alberta
Tel: (403) 762-5531
Seasonal Soup
$7.50 bowl, $4.50 cup
House made seasonal soup served with garlic bread.
Alpha Salad
$12.95 full, $6.25 half
Heritage greens mixed with cucumbers, cherry tomatoes, carrots, pumpkin seeds and strawberries topped with feta cheese and served with citrus vinaigrette. GF
Caesar Salad
$13.95 full, $6.95 half
Crispy Romaine hears, crouton, bacon, lemon wedge and parmesan cheese, tossed in a house made anchovy and garlic dressing.
Add to any Salad
Herb grilled chicken breast $7.50
Grilled shrimp skewer $10.50
Pork Schnitzel
$16.95
Breaded and deep fried pork loin topped with mushroom sauce, served with mash potato and seasonal veggies.
Chicken Tikka Masala
$17.50
Marinated chicken breast tossed in a spiced tomato sauce, served with cinnamon infused rice, garlic naan and greens.
Fish & Chips
$16.95
House made beer battered haddock fish, served with lemon caper aioli and house cut fries.
Asian Fusion Bowl
$15.95
Pad Thai noodles, miso broth, fried tofu, julienne vegetables finished with pea shoot. V, GF
Mushroom Alfredo
$13.95
Pan seard wild mushrooms with roased garlic, white wine, cream and parmesan cheese sauce, tossed in linguine.
Linguine Primavera
$12.95
Sauteed vegetables with tomato herb sauce, tossed in linguine and topped with feta cheese.
Add-ons
6oz Chicken $7.50
5oz Fish $6.00
Shrimp $10.50
Bacon $2.00
Ground Beef $7.50
Burgers & Sandwiches
Served with a choice of fries or house salad
Alpha Beef Burger
$17.95
6oz beef burger, smoked cheddar cheese, bacon, lettuce, tomato, pickles, onion ring on brioche bun dressed with roasted onion aioli
Beef Dip Sandwich
$16.95
Shaved roast beef, mushroom, provolone cheese, beef jus, on ciabatta bun
Cajun Chicken Sandwich
$14.95
Grilled chicken, cheddar cheese, lettuce, tomatoes and bacon on ciabatta bun dressed with roasted onion aioli
Vegan Burger
$13.95
Homemade chickpea and green pea burger, roasted red pepper coulis, lettuce, red onion and tomatoes on ciabatta bun. V
Wolf BLT
$14.50
Canadian bacon, lettuce, fried egg and Gournay cheese served on sour dough bred.
Substitute
Gluten Free Bun $2.50
Onion Rings $4.00
Sweet Potato Fries $3.00
BREAKFAST

Not Open for Breakfast at this time.
DINNER
Sunday – Thursday  4:00pm – 10:00pm
Friday – Saturday – 4:00pm – 10:00pm
Hours of operation subject to change through seasons