Alpha Bistro
 Alpha Bistro is just off the lobby at the Banff Rocky Mountain Resort, enjoy our fine Canadian cuisine in a cozy atmosphere.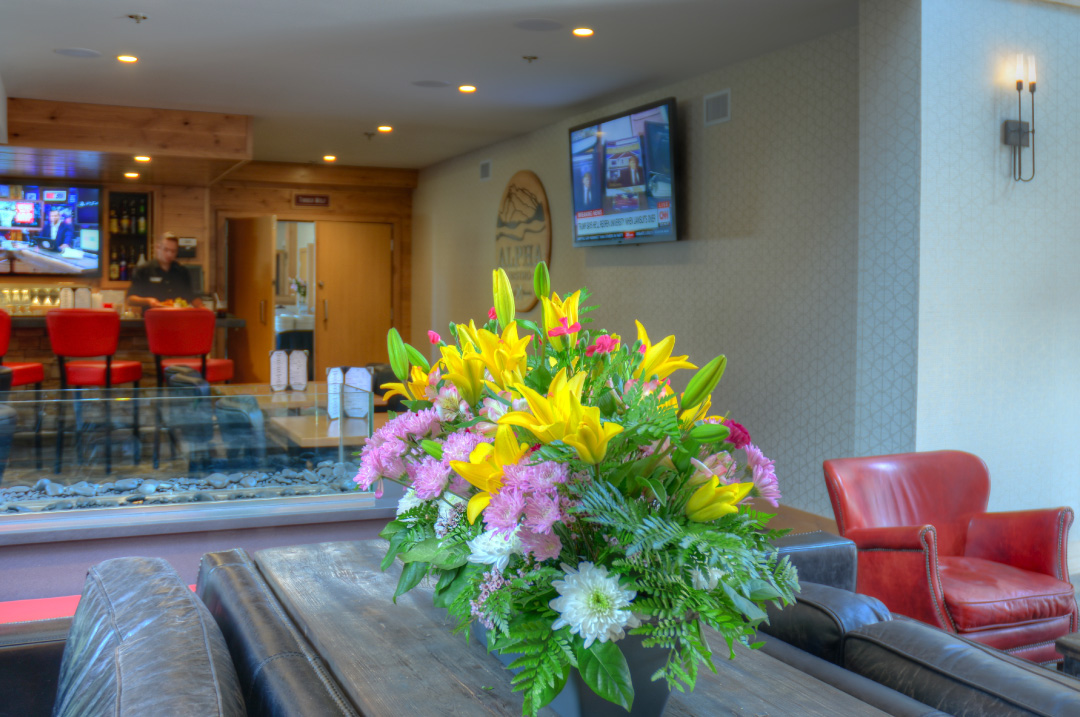 Located in the Banff Rocky Mountain Resort
1029 Banff Avenue
Banff, Alberta
Tel: (403) 762-5531
Open for Take-Out
Seasonal Soup
$6.95
House made seasonal soup served with garlic bread.
Alpha Salad
$12.95 full, $6.25 half
Heritage greens mix, cucumbers, cherry tomatoes, carrots, pumpkin seeds pickled red beets and feta cheese and served with strawberry vinaigrette.
Caesar Salad
$13.95 full, $6.95 half
Crispy Romaine hearts, roasted artichoke, croutons, bacon, lemon wedge and parmesan cheese, tossed in a house made anchovy and garlic dressing.
Add to any Salad
Herb grilled chicken breast $7.00
Pork Schnitzel
$16.95
Breaded and deep fried pork loin topped with mushroom sauce, served with mash potato and seasonal veggies.
Butter Chicken
$16.50
Marinated chicken breast tossed in a spiced tomato sauce, served with cinnamon infused rice, garlic naan.
Fish & Chips
$16.95
Beer battered white fish, served with lemon saper aioli and french fries.
Miso Bowl
$15.95
Rice noodles, miso broth, fried tofu, julienne vegetables and shoyu tamago.
Beef Bourguignon
$21.00
Red wine braised beef, bacon, pearl onion and mushrooms served with mash potato and seasonal veggies.
Linguine Primavera
$12.95
Sauteed vegetables with tomato herb sauce, tossed in linguine and topped with feta cheese.
Add-ons
6oz Chicken $7.50
5oz Fish $6.00
Shrimp $10.50
Bacon $2.00
Ground Beef $7.50
Burgers & Sandwiches
Served with a choice of fries, soup or salad
Alpha Beef Burger
$16.95
6oz beef burger, cheddar cheese, bacon, lettuce, tomato, pickles, onion ring on tuxedo bun dressed with roasted garlic aioli.
Mediterranean Chicken Sandwich
$14.95
6oz chicken breast, lettuce, tomato, onion, olives, garlic aioli and feta cheese on grilled naan bread.
Chimichurri Roast Beef Sandwich
$16.95
Roast beef, slice tomato, mozzarella cheese and chimichurri sauce on toasted sourdough bread.
Wolf BLT
$14.50
Canadian bacon, lettuce, fried egg and Canadian cheddar cheese and mayonnaise served on sour dough bred.
Substitute
Gluten Free Bun $2.50
Onion Rings $2.00
Sweet Potato Fries $2.00
Crispy Dumplings
$10.95
Homemade pork and julienne vegetables dumpling served with ginger and soy dip.
Chicken Wings
$13.50
Oven baked and fried crispy wings served with a choice of BBQ, buffalo, roasted lemon-pepper, sweet chili, honey garlic or salt & pepper. Garnished with celery , carrot and ranch dip.
Cascade Nachos
$14.95
A mountain of freshly baked chips with peppers, onions, olives, tomatoes, black beans and banana peppers, topped with melted cheese and served with salsa and sour cream.
Add Chicken or Ground Beef $7.00
Classic Poutine
$9.95
French fries, smothered in chese curds adn gravy.
Mushroom
$13.95
Mushrooms, mozzerella and parmesan cheese and tomato sauce topped with balsamic reduction.
Deluxe
$15.95
Pepperoni, ham, chorizo, mushroom, mozzarella cheese and tomato sauce.
Classic Pepperoni
$14.95
Pepperoni, mozzarella cheese and tomato sauce.
Veggie
$14.95
Peppers, onions, artichokes, cherry tomato, mushrooms, mozzarella cheese and tomato sauce.
Chocolate Mousse
$8.00
Tripple chocolate mousse with strawberry compote.
Ice Cream
$5.00
Vanilla Ice Cream with caramel or strawberry sauce.
BREAKFAST
Daily 8:00 am – 11:00 am (no buffet)
DINNER
Sunday – Thursday  5:00 pm – 10:00 pm
Friday – Saturday – 5:00 pm – 10:00 pm
Hours are subject to change based on demand, please contact 1 (403) 762-5531 to confirm operating hours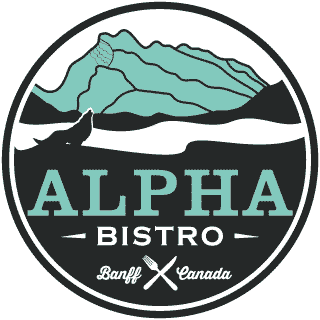 Banff Rocky Mountain Resort
1029 Banff Ave,
Banff, AB
1 (800) 563-8764
1 (403) 762-5531