Alpha Bistro
 Alpha Bistro is just off the lobby at the Banff Rocky Mountain Resort, enjoy our fine Canadian cuisine in a cozy atmosphere.
Open daily for outdoor seated dining and take-out.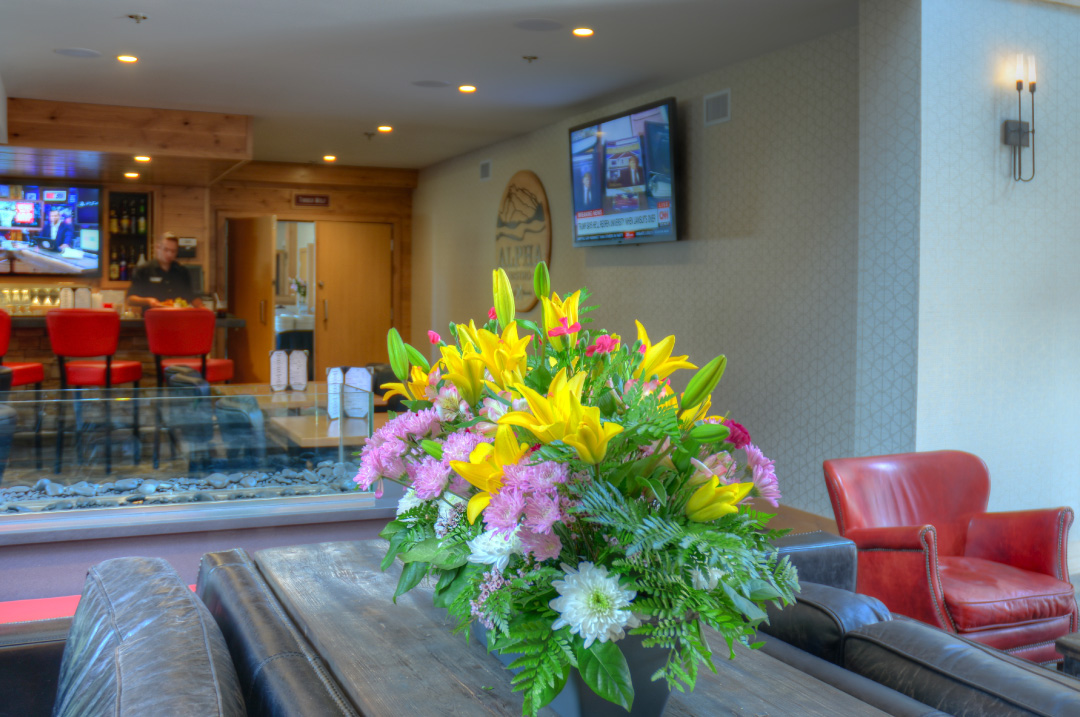 Located in the Banff Rocky Mountain Resort
1029 Banff Avenue
Banff, Alberta
Tel: (403) 762-5531
Alpha Salad
$13.95 full, $7.25 half
Heritage greens mix, cucumbers, Roma tomatoes, carrots, pumpkin seeds pickled red beets with house vinaigrette.
Caesar Salad
$13.95 full, $7.95 half
Crispy Romaine hearts, croutons and bacon, tossed in a house made Caesar dressing.
Add to any Salad
Grilled chicken breast $7.00
Sirloin steak $12.00
Falafel $5.00
Palak Chicken or Paneer
$17.95
Served with naan bread, rice and salad.
Karubi Pork Ribs
$17.95
Served with Alpha mac & cheese and braised purple cabbage.
Sirloin Steak
$19.95
Served with soup or house salad, roasted potatoes and sautéed vegetable.
Burgers & Sandwiches
Served with your choice of fries, house salad or soup.
Alpha Beef Burger
$17.95
Cheddar cheese, Alpha dressing, bacon, lettuce, tomato, pickles, onion ring.
Grilled Chicken Panini
$16.95
Mozzarella cheese, spinach, tomato, bacon and caramelized onion on a demi baguette.
Smoke Meat Sandwich
$17.50
Smoked Meat, Russian dressing, Swiss cheese and sauerkraut on rye bread.
Falafel Wrap
$14.95
Tomato, onion, lettuce, pickle beats, tamarind-mint and cilantro sauce.
Substitute
Gluten Free Bun $2.50
Onion Rings $2.50
Sweet Potato Fries $2.00
Kimchi Dumplings
$11.95
Served with sweet chili sauce.
Chicken Wings
$14.95
Tamarind BBQ, buffalo, sweet chili, honey, garlic, lemon pepper, salt & pepper.
Cascade Nachos
$15.95
Served with sour cream and salsa.
Chef's Platter for Two
$27.95
Smoke meat, prosciutto, warm olives and chorizo, falafel, Swiss cheese, pickled beats, mint and cilantro dip and Port wine braised onions; served with baguette.
Rocky Mountain
$16.95
Pepperoni, bacon, chorizo, caramelized onion, mozzarella cheese and tomato sauce.
Vegetarian
$15.95
Mozzarella, onions, peppers, tomato, spinach, banana peppers topped with Parmesan cheese and balsamic glace.
Classic Pepperoni
$14.95
Pepperoni, mozzarella cheese and tomato sauce.
Substitute
Gluten Free Crust $3.50
French Fries $4.25
Sweet Potato Fries $4.95
Onion Rings $5.95
Grilled Chicken Breast $7.00
Sirloin Steak $12.00
Mac & Cheese $6.00
Dessert of the Day $8.00
BREAKFAST
Daily 8:00 am – 11:00 am (no buffet)
DINNER
Sunday – Thursday  5:00 pm – 10:00 pm
Friday – Saturday – 5:00 pm – 10:00 pm
Hours are subject to change based on demand, please contact 1 (403) 762-5531 to confirm operating hours